IGA appoints a new Chairman
IGA 24/03/2021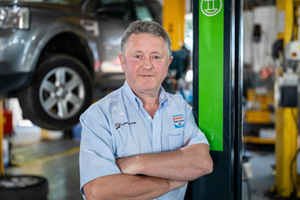 The Independent Garage Association (IGA), which represents the independent garage sector in the UK, is pleased to announce the appointment of Rob Collison as Chairman effective from March 2021. Rob succeeds Colin Parlett, who recently stepped down from the role after many years.
On his new appointment, Rob said: "I am truly honoured to be elected Chairman and believe the IGA represents the very best of our industry. Now more than ever, it is important that the sector unites under the IGA banner as it continues to operate in an environment of legislative changes and the coronavirus pandemic."
Stuart James, IGA Chief Executive, added: "Rob's enthusiasm for the independent sector and IGA activities is so important as the entire industry faces a very challenging time. I look forward to working closely with Rob to continue protecting the rights of the UK independent garage sector and drive through new initiatives that provide what garages need to keep fixing cars."
NOTES TO EDITORS
Rob Collison is the Managing Director of Collison Motoring Services Ltd, an MOT, service and diagnostic garage near Portsmouth. He has worked in the motor industry for 30 years and has sat on the IGA Executive Committee for over 10 years.
< See other press releases
About the RMI
The Retail Motor Industry represents the interests of operators in England, Wales, Northern Ireland and the Isle of Man providing sales and services to motorists and businesses. The RMI has a formal association with the independent Scottish Motor Trade Association which represents the retail motor industry in Scotland.